ALL-NEW 2001 FORD EXPLORER SPORT TRAC OFFERS MORE VERSATILITY FROM BEST-SELLING SUV LINEUP
PHILADELPHIA, Aug. 16, 1999 – The 2001 Ford Explorer Sport Trac – the newest member of Ford's best-selling Explorer family – represents an important revolutionary step in the fast-growing sport utility vehicle (SUV) segment by creating significantly more room for cargo than the traditional SUV without compromising the interior package SUV customers want.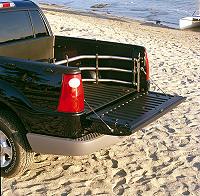 Explorer Sport Trac combines the benefits of the four-door Explorer with the added utility of a 4-foot-long cargo area made of durable sheet molding composite – a first in the segment – for "one-vehicle-does-it-all" versatility. The cargo area features, which include an optional device that extends the length of the cargo area and an optional lockable hard tonneau cover, allow it to be converted easily to accommodate a wide variety of cargo.
In dealer showrooms early next year, Explorer Sport Trac is expected to be the first vehicle of its kind offered for retail sale.
"Explorer Sport Trac is great for the active customer," says Jim O'Connor, Ford Motor Company vice president and president, Ford Division. "This rugged vehicle is certain to appeal to outdoor sports enthusiasts, do-it-yourselfers and adventure seekers.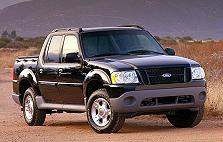 "There's a demand for a vehicle like this, and we intend to lead the industry by responding to the market needs with more and more of what customers want sooner – and certainly before anyone else."
Ford was the first manufacturer to experiment with such a vehicle when, in January 1996, it introduced the Adrenalin concept vehicle at the Los Angeles Auto Show. Adrenalin was a design exercise intended to gauge consumer reaction to a versatile and rugged, off-road, four-wheel-drive vehicle.
Adrenalin featured a unique mix of toughness, refinement and comfort in a vehicle that was comfortable at work and play. Positive public response to Adrenalin led directly to Explorer Sport Trac's development.
Rugged Versatility – Outside and In
Based on the Explorer platform, Explorer Sport Trac's rugged, athletic styling takes on a look all its own.
From the C-pillar forward, Explorer Sport Trac is a five-passenger SUV. But, behind the rear passenger compartment, Explorer Sport Trac breaks the mold, featuring one of the industry's first one-piece, all composite cargo areas. Made of durable sheet molding composite (SMC), it has molded-in texture, a mar-resistant low-gloss coating, and is virtually maintenance-free, requiring no liner. The easy-to-care-for cargo area handles clean or dirty cargo.
An optional two-piece foldable and lockable hard tonneau cover provides protection for items contained in the cargo area. It comes with a removable divider, also made of SMC, that increases storage flexibility for the cargo area. The tonneau cover can be removed easily, allowing customers to convert the cargo area from covered and locked to a uncovered and open for carrying large bulky, items.
Cargo area utility is further enhanced by 10 cargo tie downs – six located along the top rails and four on the inner panels – and a 12-volt cargo area power point.
An optional cargo keeper also extends the utility of the cargo area. This U-shaped tubular device hinges on the interior sides of the cargo area and rests on the cargo floor. When flipped out over Explorer Sport Trac's tailgate, it extends the cargo area length from more than 4 feet to almost 6 feet to accommodate several 4- by 8-foot sheets of plywood or other materials. In its stowed position, the cargo keeper creates a contained, 25- by 45-inch storage area, which is ideal for holding grocery bags or other small items in place.
Explorer Sport Trac's interior also achieves new levels of versatility, featuring the segment's first washable, textured rubber flooring. This tough, high-quality material – covered by removable Berber carpet floor mats – offers utility, easy care and enhanced sound insulation. Additionally, both leather and cloth seating surfaces are easy to clean.
A standard power down/up rear window feature enables the rear window of the Explorer Sport Trac to be raised and lowered by a control knob on the instrument panel. Tapping the knob lowers the rear window by 1.5 inches to the vent position. An express up/down feature with safety stall allows the window to be lowered or raised completely by briefly twisting the knob clockwise or counterclockwise.
Engineered for Functionality
Explorer Sport Trac, in 4x2 and optional 4x4 configurations, delivers a unique combination of smooth on-road ride and impressive off-road capability.
Explorer Sport Trac shares its basic front and rear suspension geometry with today's four-door Ford Explorer. However, its bushings, spring rates, shock valving and stabilizer bars have been modified for improved ride, handling and noise/vibration/harshness performance over today's four-door Explorer.
Explorer Sport Trac's independent front suspension has a single lower control area, gas shock absorbers, torsion bar springs and a front stabilizer bar. The rear suspension includes gas-pressured shocks and two-stage variable-rate leaf springs for a more carlike ride. Bushings and isolators have been tuned for optimal ride performance and are designed to keep the vehicle level under loaded conditions.
Power rack-and-pinion steering is standard.
All Explorer Sport Trac models are equipped with Ford's proven 4.0-liter V-6 engine, Explorer's most popular powerplant. This single overhead cam engine, which produces 206 horsepower at 5,000 rpm and 238 lbs.-ft. of torque at 4,000 rpm, is linked to an electronically controlled five-speed automatic transmission.
All Explorer Sport Trac models come with a standard four-wheel anti-lock braking system. The system controls the front wheels independently and the rear wheels in tandem to improve vehicle control under heavy braking in most operating conditions. The system includes dynamic rear proportioning to help optimize stopping performance under varying vehicle load conditions.
Explorer Sport Trac has Class II trailer towing capacity – towing up to 5,300 pounds.
New Niche in the SUV Market
Since 1981, sport utility vehicle sales have grown from fewer than 200,000 units to nearly 2.8 million units annually in the United States.
Ford Explorer is the sales leader. Introduced as a 1991 model, Explorer was the best-selling SUV in the United States for the eighth consecutive year in 1998 with sales of 425,000. It outsold its nearest competitor by nearly 2-to-1.
Explorer Sport Trac is expected to reinforce Explorer's sales leadership position and is targeted to fill a new niche for customers wanting one vehicle that does it all – from carrying a family to hauling supplies. The vehicle is expected to attract buyers considering SUVs, sports coupes and compact pickup trucks.
---
2001 FORD EXPLORER SPORT MAKES DEBUT WITH NEW STYLING, FEATURES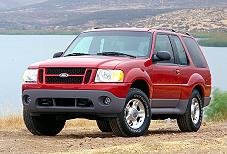 PHILADELPHIA, Aug. 16, 1999 – The Ford Explorer Sport – sales leader among two-door sport utility vehicles – is even better for the 2001 model year with new sporty styling, features and functional improvements designed to inspire confidence in any driving situation. The new model was unveiled today during a preview to Ford dealers.
On sale beginning early next year, the 2001 Explorer Sport aims to strengthen its leadership position with significant changes to exterior sheet metal, a new interior, more front leg room and improved ride and handling characteristics.
Sales of the two-door Explorer have increased each year – from 31,700 units in calendar year 1991 to nearly 112,000 units in calendar year 1998.
Sporty Styling
As its name implies, the Explorer Sport is the sportiest member of the Explorer family, catering to customers who are young, active and independent-minded looking for more fun and adventure than he or she can find in a car.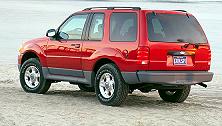 For the 2001 model year, Explorer Sport shares its new modern front-end sheet metal with the all-new Explorer Sport Trac, which also goes on sale beginning early next year. Complex-reflector headlamps flank a signature Ford grille which flows back and up to the vehicle's muscular "power dome" hood. An upswept, wraparound front fascia houses driving lamps and integrates with the vehicle's lower body-side molding.
Optional tow hooks integrate into openings in the lower bumper. Wheel flares are integrated into the sheet metal.
Inside, Explorer Sport receives additional sporty touches, including new interior trim and a distinctive white dial instrument cluster.
New Features, Improved Package
The 2001 Explorer Sport is designed with several new features.
The standard floor console includes two larger and improved front cup holders, an open front storage area convenience clip, twin retractable rear cup holders and a removable "soft pack" storage bag for holding CDs and other items.
The optional console adds a coin holder, front power point, flow-through ventilation with rear blower controls and rear-mounted audio headphone jack/audio controls.
The optional power moon roof can be tilted open or fully retracted into the roof. It includes a second, manually retractable sliding sun shade. An express "one-touch open" feature fully retracts the moon roof when the control switch is pressed briefly.
A front overhead console is optional. It houses two map/courtesy lamps, compass, outside temperature display and garage door opener storage bin or, for models equipped with a moon roof, the moon roof switch.
Customers can choose from two audio systems. The standard 60-watt system uses four premium speakers and includes AM/FM stereo radio, clock and single CD player. An optional, 290-watt audiophile quality system features a six-disc in-dash CD player and seven speakers (two coaxial tweeter/midrange speaker sets in the front doors, two single rear door speakers, plus subwoofer).
Designed to seat four adults comfortably, Explorer Sport's passenger compartment offers customers best-in-class roominess and increased front leg-room compared with the previous model. With nearly 70 cubic feet of maximum cargo space and the ability to tow up to 5,180 pounds, Explorer Sport is perfect for active lifestyles.

Confident
The new Explorer Sport is powered by Ford's 4.0L SOHC V-6, which produces 206 horsepower at 5,000 rpm and 238 lbs.-ft. of torque at 4,000 rpm. The engine is linked to a five-speed electronically controlled automatic transmission.
The new Explorer Sport offers drivers a command seating position for a better view of the road and comes in 4x2 and optional 4x4 configurations.
Ford engineers took several steps to improve the ride and reduce cabin noise in the 2001 Explorer Sport over today's model, and a stiffer frame improves vehicle dynamics and contributes to lower noise, vibration and harshness. A sound dampening floor system helps block noise from entering the passenger compartment. Also, the instrument panel and laminated dash sheet metal are designed to reduce the transfer of engine noise to the passenger compartment.
Suspension improvements contribute to a better ride. Front and rear stabilizer bars are standard, and the modified front caster improves drift/pull characteristics. Also, revised shock tuning and a new multistage rear leaf spring suspension reduce ride harshness.
All models come with standard power rack-and-pinion steering for precise, carlike steering characteristics.
The Explorer Sport is fitted with a larger, more durable and quieter four-wheel disc braking system, which achieves a shorter stopping distance. Front brakes have larger rotors, phenolic pistons and stiffer calipers. All models have new front-wheel dust shields to assist in rotor cooling.
A four-wheel, three-channel anti-lock braking system is standard. This system controls front wheel braking independently and the rear wheels in tandem during an emergency stop. Dynamic rear proportioning optimizes non-ABS stopping performance under varying load conditions.
Reprinted with permission