As a career field environmental scientist, I have used a lot of different 4x4s through the years to get me lost in the backcountry. Now I think I am finally getting it right.

It didn't look that way when the light café latte decaffeinated mocha mist clear-coat metallic (OK, so its brown) and white '92 XLT and I first got together. After just 3 days of ownership and under 300 miles, I was rear-ended at high speed on the Interstate, breaking the driver seat mounts and throwing me into the back seat. That's why I have stressed lots of creature comforts for a very bad back and neck into this rig. But what impressed me was how the rest of the Explorer survived the accident, just how strong it is and how easy to fix. The couple of bent frame members were replaced, as was the rear lift gate. No glass broke. Its fuel shut-off worked perfectly. The structure remained intact. In short, I survived to fight another day when I could have died instead.




Jack's Explorer with it's stock suspension. Note that he is running Yokohama Super Digger V 31x10.50's with no lift. On this rig they never rubbed. Those are the Sandia Mountains, the southern-most extension of the Rockies, behind his house that go up to 10,600 feet, with some great wheeling trails in the foothills and canyons. He gets to test all his modifications just a 1/2 mile away from his garage.
The Explorer is an excellent platform and can be made to be a real on and off road performer. Here's what I did to mine:
Engine Modifications:
Borla headers and exhaust, plus a Walker Dynomax no-restriction catalytic converter (1200 CFM over stock): This modification alone gives 35+ HP.
Then added incremental gains were obtained with the larger Performance Products mass air sensor intake and Vanir Technologies throttle body, K&N air filter, Hypertech computer chip, Splitfire spark plugs, Jacobs plug wires, and a good supertuning by my wrench. The engine delivers a conservative 210+ HP. Using 91 octane gas seems to make a difference in both power and mileage.

Suspension:
My stock Explorer was one of those that were able to run 31" tires right out of the box. I used a Performance Products 1.5" lift to run 32s for a while, but wanted all new leafs (no add-a-leafs or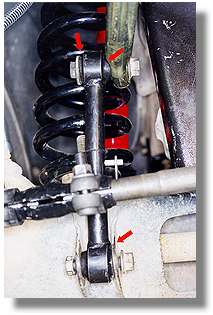 spacers), beefy front coil, lift with superior steering. After reading all the tech data and studying spring rates, I just added the 4" Superlift with Superunner steering. For more front wheel travel, I had a JKS sway bar disconnect for a lifted Jeep CJ modified to fit on the Performance Products heavy-duty sway bar. It works fine and I'm going to do the same on the rear sway bar now. I also have changed all the suspension bushings to Energy Suspensions urethane bushings. The body mount bushings were swapped out for Daystar urethane bushings…what a pain. These are real hard to get to and my old ones at 80,000 miles didn't seem very worn. But two were broken from the accident way back in '92 and when they were all installed, the dirt marks showed me that I gained another ½ inch of lift from the new body bushings.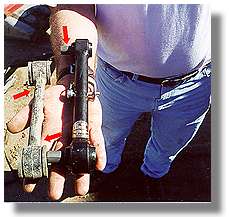 Darren Owen's, at Toys for Trucks in Albuquerque, discovered that with only minor bushing trimming, JKS sway bar disconnects (Part # 9300) for a lifted Jeep CJ will fit perfectly on an Explorer. Note the shorter skinnier stocker and the new JKS. The two opposing arrows show the slight angle offset of the stock bar. The JKS will fit with minor bushing trimming to make up for the offset. Note the JKS bushing sleeve (arrow). A different size, depending on your Explorer, may have to be used.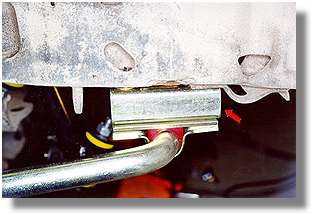 To keep the Performance Products heavy duty sway bar level, Toys for Trucks in Albuquerque, didn't use the 4" sway bar drop bar from Superlift, because it was too long. Here they used a leftover drop bar (Superlift Part #3888) from an early Chevy or GMC pickup for a 4"-6" lift. A Superlift 5.5" kit would probably use the 4" drop bar to keep the JKS disconnects and Performance Products sway bar level in place. For disconnecting , there are many holes in the Explorers frame for attaching bungies to keep the bar out of harms way.
Shocks:
Throw your mushy stockers into the ocean and get some Bilsteins, Monroe SensaTracs, or the new Edelbrocks! I wanted a great off-road shock that would counter body roll and nose dive on the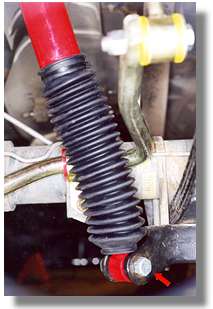 Interstate, but not need adjusting all the time. Edelbrock didn't make the IAS for a lifted Explorer (and say they won't anytime soon), but they do now for a 4" lifted F150 truck. I asked many questions and didn't get the answers I wanted, was told they wouldn't work, wouldn't fit, etc. They ARE the right length and strength for a built Explorer and they FIT like a glove. At Interstate speeds or on the trail you can feel the IAS valve nip body roll in the bud and it feels like you are riding on rails! Hit the brake hard and the nose stays even! I even thought I would have to drill out the mount hole a little bigger. Nope, the original Explorer mounting bolt was smaller than the hole! My alternative was to use the Rancho 9000s. I have them with the in-cab controller in my Jeep and they work great, especially on the trail…but you are always fiddling with them!

Wheels and Tires:
After talking with Roger Anderson of Farmington, New Mexico (who has a very built 302 powered Explorer on 35" tires), I went for an 8.5" Progressive Type 18 alloy wheel because of its 3.625" offset, strength, and featherweight. With the 33x12.50 BFGoodrich ATs' pushed by 4.10 gears, it's a perfect fit. The BFGs are great on the highway and not bad performers off-road.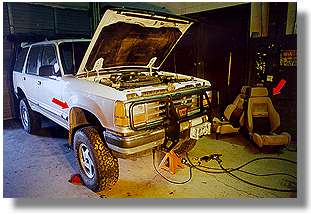 Lifting the Explorer just 4" (Superlift) gave all of this wheel well room (note arrow)...the tires on the rig in this photo are "only" 32's! New BFG A/T 33's fit great. At the same time he did the body lift, the body bushings were replaced. that's why the Recaro (arrow) seats are out...you have to strip the interior to get to the body bolts. There are even two under the gas tank and it has to be dropped...What a pain! But the Daystar (Part #KF04009) urethane bushings are very firm, limiting body roll, and gave another 1/2" of lift over the slightly worn OEM body bushings. While changing these out the guys at Toys for Trucks in Albuquerque invented many new unprintable words...
Axles:
Front axle: Dana 35 TTB, 4:56 Gears, ARB Airlocker, Dynatrac skidplate
Rear axle: Ford 8.8", 4:56 Gears, ARB Airlocker


Custom Nerf Bars: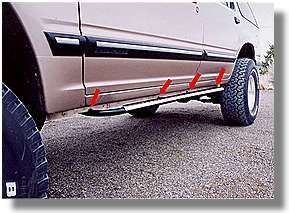 Driver's side nerf bar. The 62" bar is 1 ¼" electric weld "low carbon" 14 gauge steel tubing used in stock car auto frame braces/bumpers and is bolted to the frame in 4 "L" channel brackets of ¼" hardened steel with the bars welded to the brackets. For hit-absorbing nerfs, this metal is bendable, but not brittle, like chrome-moly or high carbon steel. Unlike most nerfs, there are 2 intermediate support bars from the frame to the nerf bar for added support and hit strength. These bars are satin black to match Jack's front push bar, light guard and Warn 8000 winch mount, with a half wrap of polished aluminum diamond plate held on with pop rivets both for a non-skid step surface and to accent Jack's 15x8.5 Progressive (Type 18) alloy wheels. He has sealed the edge of the diamond plate with high-heat black RTV silicone for rust protection for the bar and edge protection for little fingers.
Jack would like your input on these custom
nerf bars. If he gets a good response they will
be offered for sale on a limited basis.
E-mail Jack at:
jlobdell@flash.net
Other Stuff:
Dynatrac front diff skid plate, Optima battery, deep cup plugs instead of the flimsy rubber plugs in the 5-speed Mazda tranny**, Amsoil full synthetic high temperature tolerance tranny fluid with Problend Gear Lube additive too keep things cool, Centerforce clutch Amsoil 85-140 full synthetic diff lube again with Problend Gear Lube, Problend radiator additive plus a full range thermostat, Amsoil synthetic white waterproof grease in hubs and driveshaft ends, Warn manual hubs, Warn 8000 lb. winch with Warn push bar mount and front light guard, Sun Air Compressor, tow hooks.

Creature Comforts:
OEM fabric matched Recaro seats (one takes a 3-way Homedics electric message and heating cushion), Kenwood AM/FM Cassette with 6 CD disc changer and 4 Infinity 2-way Speakers, Radio Shack CB with 3" external speaker, Wilson 1000 roof-mounted antennae, Motorola Spirit 2-way radios, 3 watt and 6/10th watt cellular phones, and a Garmin II GPS.

The Future:
Roof cage rack, CO2 air system, "skinny" 33x9.50 BFG spare tire on a 7" Progressive Type 18 Wheel, "skinny" 100 watt driving lights on the push bar, and a very small electric or 3-way refrigerator for that cold one after the trail.

Wish List:
I like the tranny and transfer case that I baby with synthetics and cup plugs, but eventually want something lower-geared and more bulletproof. Everybody raves about the New Venture 4500, but it's going to be a real tough fit with that big bellhousing… How about a Borg-Warner "World Class" T-5? With only 5 lbs. less maximum torque rating than the redoubtable T-4, its been pushing GT Mustangs and Z28 Camaros for many years, plus a Dana 300 transfer case will bolt right up. I have a custom built Jeep T-5 with World Class "innards" and a Dana 300 on my Jeep CJ and it is geared real low and hasn't broken behind the 300 HP V8 yet.
Come rebuild time, I'm going for the forged pistons, solid rocker arms, etc., from Vanir Tech. With a very mild RV cam it should bump horsepower up to about 260.
I'm still thinking about a Paxton supercharger…but I kinda' like it the way it is right now. It's a great blend of a highway and off-road performer.

Photos from the Trail


"Off the Beaten Trails" creator Rick Horwitz, got together with Jack Lobdell, for an afternoon of four wheeling fun. Here are some photos from our trip to the Orizaba mine.
Regrettably my friend Dr. Jack Lobdell passed away on 8/9/99

Although I only knew Jack Lobdell for a relatively short time I felt a close kinship with him. Jack held a great love for the outdoors, this held true in his career as an archaeologist and environmental scientist and also in his free time as an avid fourwheeler. While working at Milne Point camp about 4 miles south of the Arctic Ocean Jack died peacefully in his sleep from unknown causes. Jack passed away 8/9/99 and will be missed by all who had the pleasure of knowing him.
Rick Horwitz