Explorer & Ranger Classifieds
Buy and Sell New & Used
Explorer and Ranger Parts & Accessories
---
Explorer & Ranger
Solid Axle Swaps
Solid Axle Swap Directory
Turn your Explorer Into an
Unstoppable Rock Crawler
---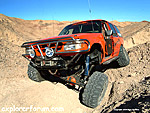 Ford Explorer
Desktop Wallpaper
Excellent Hi-Resolution Photos
---
---

Why the Ford Explorer works so well offroad
With the Ford Explorer being the #1 SUV in America for over two decades there is certainly no one in the US who not familiar with this vehicle. The trouble is that most people equate a Ford Explorer with soccer moms and shopping malls rather than off road trails such as the Rubicon and Terminator.
The 1st and 2nd Generation Ford Explorers may be the best kept secrets in the off-road world. When these rigs are stock they are capable off-road performers. After a few modifications they become nearly unstoppable.
From 1991-1994 the Ford Explorer platform came with a full ladder type frame based on the tough Ford Ranger platform, an extremely tough 8.8" 31 spline rear axle, Dana 35 Twin Traction Beam (TTB) front suspension (axle diameters and U-joints are the same as a Dana 44), choice of a manual or electronic shift BW1354 transfer case with low range, manual or automatic locking hubs, and a torquey, super reliable 4.0L V-6.
In 1995 Ford changed the front suspension on the Explorer to an IFS system (Independent Front Suspension). Although the IFS systems offer less wheel travel than the TTB systems, they have proven themselves to be extremely capable and reliable off-road.
2002 brought more changes to the Explorer 4 door. The most noticeable change is the addition of an Independent Rear Suspension system in place of the live axle suspension all previous Explorers shared.
So, what does it take to make the Explorer "really" off-road worthy? The same type of modifications as any other rig. Large tires for flotation and ground clearance. A lift to accommodate the big tires. Re-gearing to compensate for the larger diameter of the tires and a locker or two for putting the power to the ground. Approach and departure angles can be maximized by installing aftermarket bumpers, and the break over angle is excellent since the transfer case is tucked well up within the frame rails.
The Big Change:
2011 brought the biggest changes to the Explorer since it's inception in 1991. Beginning in 2011 the Ford Explorer was built on a unibody chassis. There is no longer a separate frame. In 2011 Ford also ditched the Explorer's transfer case, so low range is no longer available. Sadly, due to the changes which have made the Explorer more "car like" the Fifth Generation Explorer is the least capable in off highway conditions of all the generations. I am looking forward to eventually seeing 5th gen Explorers with solid axle conversions front and rear, along with a proper transfer case.
Welcome to
"Serious Explorations" ®
" Serious Explorations"® has been the #1 Ford Explorer and Ranger enthusiast community since 1996!
Our Message Board. is the top resource for all Ford Explorer, Ford Ranger, Explorer Sport Trac, Mercury Mountaineer, and Mazda Navajo related topics providing guidance to the do it yourselfer, preventive maintenance tips, service, modifications, and on and off-road event planning.

The message board is your gateway to our extremely active and friendly community of Ford Explorer / Ranger based truck owners. You will find lots of great people there ready to help you solve your most obscure problems.
In our network of sites you will find the Ford Explorer Generation Guide and Ford Explorer and Ranger Maintenance Tips to keep your Explorer and Ranger based trucks running great.
Be sure to check out our huge Photo Gallery wheremembers can show off their Explorers, Rangers!!
For those interested in Explorer street trucks check out www.explorersportruck.com

Let the "Serious Explorations" begin!
Join Our Message Board
ExplorerForum.com

With over 300,000 registered Explorer, Ranger, Mountaineer, Bronco II and Navajo owners and 3 million+ posts you will get your questions answered quickly no matter if your ride is stock, offroad, race, or street.
Tech Tips, Repairs, Performance Modifications, Maintenance Recommendations, Cures for Common Problems, Swaps, 4x4 Runs, Sport Truck Rides and more! Join us today!



Explorer Ranger Run Photo Gallery
Photos from several of our
Explorer group's offroad runs

Loads of Explorer and Ranger Pictures!
Explorer & Ranger Photo Gallery
Over 40,000 photos!
---

Thousands of Tech Tips Can Be Found
by searching our:
Explorer Ranger Message Board

And in our Archived Copy of
Jeff Singleton's
"The Explorer Owners Maintenance
Reference Page"
---
In the beginning...
The first Ford Explorer...

The Inside Story of the
Ford Explorer SUV Program

by Derek Elliott
Former Ford Body & Electrical Engineer
---
---
Ford Explorer Specifications
1991 - 2011

VIN Number Decoding
Axle Identification

---
Editor's Explorer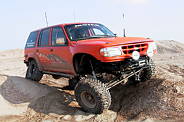 Rick's "Great Pumpkin"
Specs what's in Rick's rig

Info about the build up of this truck
SEMA Show Photos
My photos from SEMA, the ultimate parts and accessories exhibition presented each year in Las Vegas by the Specialty Equipment and Manufacturers Association